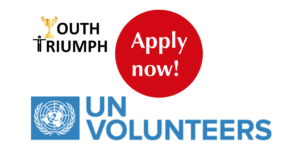 Description
The United Nations Volunteers (UNV) program contributes to development and peace via volunteerism worldwide.
UNV works with partners to integrate qualified, highly motivated and well supported volunteers into development programming and promote the value and global recognition of volunteering.
The program is administered by the United Nations Development Programme /UNDP/
The UN Volunteers are mobilizing volunteers to serve in United Nations agencies, both in peacekeeping operations and development programs. Its aim is to push the participants to participate in their own development.
Eligibility
The applicants must to be:
18 to 55 years old;
fluent in Spanish, English or French.
have no less than two years of applicable work involvement in an professional background;
Benefits
The selected candidates will receive:
Travel expenses;
Annual working leave;
Life, permanent, health and disability insurances;
living allowance which will cover basic expenses;
Resettlement allowance;
Settling-in-grant, which will be paid at the start of the assignment.
Apply HERE
More information HERE