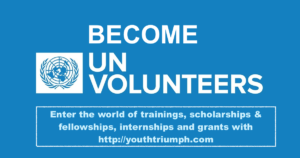 Deadline: rolling
Open to: candidates at least 25 years old with with a college degree and working experience
Benefits: grant for setlement, insurance, monthly grant, travel
Description
The choise to work as a United Nations Volunteer abroad or home is based on a commitment to the United Nations and to the UN's contribution to development, peace  and human rights in support of the Millennium Development Goals (MDGs).
The UNV placement can be very rewarding.
Applicants should ready to be deployed to difficult places and they need to be able to adapt to fast-changing working and living conditions.
They should be aware that they may not have a right to choose their duty station, because it is determined by operational requirements, not by personal preferences.
Their final duty station may only be known after they have been recruited and have arrived on the ground.
The vast majority of UN Volunteers' assignments are with duration between six to twelve month on a renewable basis contracts, with the opportunity that the UN Volunteer will serve one year or more.
If you are available to volunteer and/or  interested on a short-term assignment of three months or less, read about the Short-term assignments HERE.
Eligibility
– Two years of relevant working experience;
– A college degree or higher technical diploma;
– Strong commitment to the values, standards and principles of volunteerism;
– At least 25 years old when taking up a duty (there is no upper age limit);
– Good working knowledge in at least one of the three UNV working languages: English, Spanish and French;
– Ability to work in a multi-cultural environment;
– Strong organizational and interpersonal skills;
– Ability to adjust to difficult living conditions;
– Prior working and/or volunteering experience in a developing country is a benefit.
Benefits
To support you during your assignment, you will receive:
– Travel on start and at the end of duty as applicable;
– Settling-in-Grant which will be calculated on the basis of the duration of the assignment, paid at the beginning of the assignment;
– Resettlement allowance calculated on the basis of the duration of assignment, paid upon satisfactory completion of the assignment;
– Volunteer Living Grant for basic living expenses, which will be paid each month;
– Health, Life, and permanent disability insurance;
– Annual leave.
Application
The majority of UN Volunteers assignments are filled by applicants from the database who have expressed an interest in becoming UN Volunteers.
You can register HERE.
In some cases, they seek additional applications for a specific area of professional expertise or for projects which require bigger numbers of UN Volunteers.
You can find the Special recruitment opportunities HERE.
More info is available HERE.