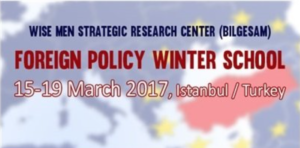 Deadline: 03 March 2017
Open to: bachelor, master and PhD degree students from Turkey and throughout the world.
Date and Venue: 15-19 March 2017, Istanbul/Turkey
Description
Turkey is located in a very critical geography. On one hand it is a NATO member and strategic partner of the USA. On the other hand, it is located in the neighborhood of the regional powers like Iran and Russia which both of them play extremely important role at the contemporary world politics. Furthermore, Turkey has border with the Middle Eastern countries in which there is a continuous civil war and turmoil. Being located in such critical geography, Turkey should develop effective foreign policy which not only can prevent Turkey from potential security threats but also can bring peace and security to the whole region.
The Foreign Policy Winter School is organized by the Wise Men Center For Strategic Studies (BILGESAM)- one of the leading think tanks of Turkey. BILGESAM is a private, non-profit research center that cooperates with well known international research centers and institutions. The Winter School will include all aspects of Turkish Foreign Policy, main actors of policy-making processes, institutes and Turkey's relations with regional and global powers. Regional security topics such as Turkey's role on the Middle Eastern security, Black Sea security, security of the South Caucasia, are also in the agenda. Furthermore, courses on regional energy security issues and Turkey's energy policies also will be lectured.
Aim
With the successful completion of the BILGESAM Foreign Policy Winter School you will:
get deep understanding on contemporaryTurkish Foreign Policy;
become familiar with key trends at the Middle East, the Black Sea  and the South Caucasian regions;
become familiar with Turkey's policies and strategies on regional and global conflicts and crisis;
get deep understanding on current energy projects at the region and their global influence.
The courses during the winter school will be taught by professional experts both from Turkey and abroad such as university lecturers, high-ranking think thank research fellows, and Turkish and international diplomats.
Content:
General frame of Turkish Foreign Policy at the post-Cold War environment
Security Issues in the Turkish Foreign Policy Agenda
Turkey's Middle East Policy
Turkey and Security of the Wider Black Sea region
Turkish-Russian political, economic and military relations
Turkey-Iran Relations
Turkey-NATO Relations
Turkey-EU Relations
Turkey's South Caucasus (Azerbaijan, Armenia and Georgia) policies
Turkey's Energy Policy and European Energy Security
The official language of the Winter School is English.
Eligibility
Bilgesam Winter School is aimed at bachelor, master and PhD degree students from Turkey and throughout the world. Professionals and non-professionals, who are interested in Turkish Foreign Politicy and Security Issues in wider region with a particular focus on issues mentioned above, can also apply.
The main criteria for selection will be motivation to develop as an expert on foreign policy issues. Within the framework of the 4-day program, participants will be briefed on matters related to fundamental issues of the Turkish Foreign Policy and Turkey's bilateral relations with the global and regional powers.
After successful completion of the Winter school participants will receive certificate of completion.
Costs
The participation fee for the winter school amounts to:
125 Euro / 150 USD  (without accomodation) and to
275 Euro / 305 USD  (4 day accomodation and breakfast included; social activities, excursion to historical places in Istanbul)
The fee covers all winter school materials.
Participants are to make their own travel arrangements.
Please note that the participation fee is due by March 05, 2017. Participation in the Foreign Policy Winter School is only possible after confirmation of payment. Please note that we can reimburse only %50 of the participation fee, if you cancel after March 05, 2017.
Accommodation can be either arranged by us or by the participants themselves. Please indicate in the email if you wish us to arrange accommodation or if you prefer to take care of accommodation yourself.
Insurances and Visa:
The Winter School is unfortunately not able to provide health, accident and liability insurance. It is the responsibility of the participants to take care of health, accident and liability insurance coverage.
Please indicate in the application form if you need an official letter from the Wise Men Center For Strategic Studies (BILGESAM) confirming your admission to the Foreign Policy Winter School in order to apply for a visa. The letter will be sent with the admission notification. Please also note that all visa procedures remain in the responsibility of the participants and must be taken care of in due time.
Application
Applicants should send us the following documents in English:
– resume/CV; – one photo
You can register for the Foreign Policy Winter School via email   elnurismajil@gmail.com.
The deadline for registration for our Winter School is Friday 03 March 2017.
More information HERE