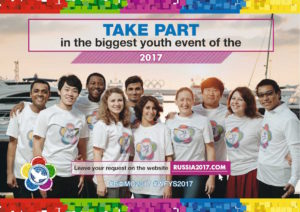 Deadline for application: 15 May 2017
Dates and Venue: October 14-22, 2017, Sochi, Russian Federation
Working languages: Arabic, Chinese, English, French, Russian, Spanish (6 official languages of the United Nations)
Eligibility: aged 18-35, representatives of youth NGOs, young journalists, artists and sportsmen, leaders of youth organizations and political parties, young professors and scientists, as well as compatriots and foreigners who study Russian language.
Description:
The Festival has it's long history coming from the end of World War 2, when it was initiated by the World Federation of Democratic Youth. In 2014-2015 National Youth Council of Russia initiated the idea to bring Festival to Russia and after the decision of WFDY, it will be in Sochi this year. In 2017 the Festival will get new features, innovations in the program, it will bring around 20 000 young people from 150 countries with different political views, social and cultural backgrounds, ideas and thoughts.
Festival is aimed at consolidating the youth around the idea of peace, solidarity and social justice, strengthening international ties, as well as promoting international and intercultural cooperation. Discussions, cultural program, sport competitions, exhibitions, spaces for the exchange of the experiences and many more – the days in Sochi will be full of activities and events. The Festival's discussion program will cover the key issues: Education, History, Culture, Economy and entrepreneurship, Science and technology, Health and social welfare, Ecology, Politics and international security, Architecture and Urbanization, Mass Media, Civic society and Volunteers, as well as the Forum of WFDY member organizations, with special thematic discussions and workshops.
Costs:
Free, without any participant's fee. Accommodation and meals during the Festival will be covered by the organizers. Travel expenses to Sochi and back: by sending party/participants. Participants of the Festival will get free visa to the Russian Federation.
Application for the Festival: http://russia2017.com or http://www.russia2017.com/en/#/members
Apply HERE
More information at the official webpage HERE
Links to social networks and more info:
Facebook , Instagram  and Youtube Channel