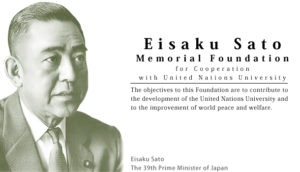 Deadline: 31 March 2017 0:00 am (at midnight on the 31st, Japan time)
Eligibility: no restrictions for age, nationality or profession
Prize: first place (4,000 USD), second place (1,700 USD), an honorable mention (400 USD)
Description
The theme of the 2017 contest is: "Demography of the world is experiencing a significant structural change. While world total population is still growing, increasing number of countries are facing low fertility, rapid ageing and even depopulation. Some are concerned about possible ageing before societies become rich. Others are seeing continuing explosion of unemployed youth. Even in rich countries, social security system is under pressure, and generational conflict is on the rise.
How should the United Nations cope with such demographic changes? Discuss the potential role of the UN against this world phenomenon, 'demographic tsunami'."
Other requirments:
Essays may be written in either English (maximum 20 pages) or Japanese (maximum 30 pages);
All essays should be typed on A4-size paper and include an abstract of up to 2 pages (English) or 3 pages (Japanese);
Submissions must be original, unpublished papers, and must include reference notes and a bibliography if other authors' works are cited. Reference notes are not counted in the page limits.
Prize
A grand prize (4,000 USD);
Second prize (1,700 USD);
An honorable mention (400 USD) will be awarded;
The winners will be notified by September 2017.
Application:
To enter the 2017 Eisaku Sato Essay Contest, submit your essay along with a cover sheet listing your name, affiliation, age, gender, nationality, mailing address, telephone/fax number (if available), e-mail address, and a note on how you learned about the contest.
Only essays submitted via email to essay@satoeisaku.com will be accepted. Please attach your cover sheet and essay as a single (one) document file, and use your full name as the document title.
More information HERE.