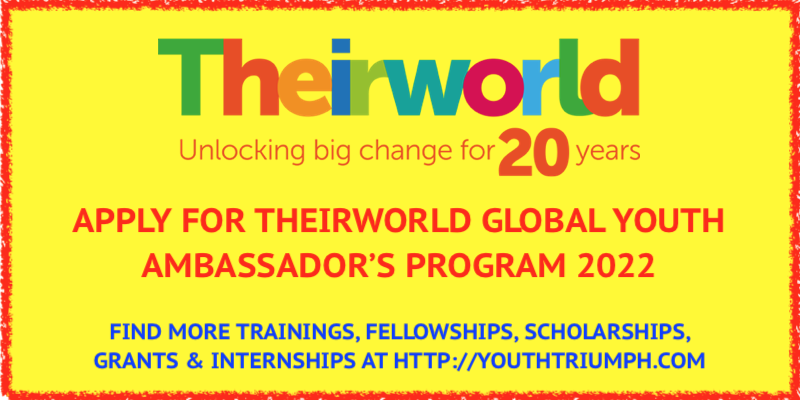 Deadline: 30 September 2022
Open to: international applicants, 18-28 years old
Benefits: networking, training resources, other opportunities
Description
Applications to join the Theirworld Global Youth Ambassador Programme 2022 are now open. Theirworld's Global Youth Ambassador (GYA) programme is an active, dedicated network of over 1,500 young people around the world who are passionate about ending the global education crisis.
It is a voluntary two-year programme that supports young people around the world to campaign for the right to education in their communities, countries, and beyond. A connected network of 18 to 30-year-olds, it is made up of young campaigners and social entrepreneurs united in their passion for social justice and the right to education.
GYAs benefit from a community of like-minded people, having access to advocacy opportunities (big or small!), bespoke training and capacity building for developing their skills as young changemakers and building their knowledge on the most critical education issues.
Eligibility
Applicant must be between 18-28 years old at the time of applying.
Applicant may be from anywhere in the world.
Must show a passion for ensuring quality education for every child.
To be able to get the most out of the programme you will need:
A basic understanding of English (verbal and written). This is important as all email/social media correspondence is in English
To have regular access to the internet
Benefits
As a Global Youth Ambassador you will have access to:
Community: Join a connected network of over 1500 young people who are passionate about education and are working together to unlock big change
Opportunities: Add your voice to campaigns, actions and critical discussions that are working to end the education crisis.
Build your knowledge: Get access to the latest reports and information on global education and stay up to date on how we can achieve inclusive and equitable education for all.
Develop your skills: Use the Global Youth Ambassador training resources to develop your education advocacy and campaigning expertise.
How to apply?
To apply to become a Theirworld Global Youth Ambassador, simply complete the application form. Only fully completed application forms will be considered.
Apply HERE