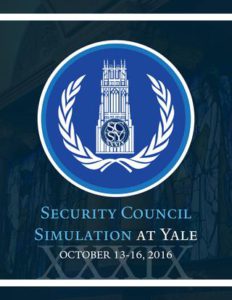 Deadline: October 1, 2016
Venue: 13-16 October, 2016, New Haven, USA.
Eligibility: All undergraduate and graduate students around the world. You must be a university student to attend SCSY.
Registration schedule and pricing:
Deposit to confirm registration: $200
Regular registration deadline: Friday, September 2, 2016- $100 per delegation, $95 per delegate
Late registration deadline: Saturday, October 1, 2016- $100 per delegation, $115 per delegate
Description:
Applications are invited to the thirty-ninth annual session of the Security Council Simulation at Yale (SCSY). Over 400 undergraduate and graduate students from around the world will gather at Yale University to put themselves in the shoes of policymakers and address the world's most challenging and unpredictable crises. The Security Council Simulation at Yale, in its 39th iteration, will convene over 15 committees to address crises related to topics ranging from the EU migration crisis and Latin American narco-terrorism to deadly climate change and future presidential campaigns.
The Security Council Simulation is part of the Yale International Relations Association, Yale's largest student organization with working connections with the Jackson Institute for Global Affairs and the MacMillan Center for International Studies. The crises simulations are open to all majors and will help build problem-solving, negotiation, policy writing and critical thinking skills, and enrich participants' knowledge about global affairs, economics and scientific questions.
Benefits:
The Security Council Simulation at Yale aims to:
deliver rigorous global affairs and scientific education to college students, which is not part of traditional curricula;
train future policy-makers and experts by honing their skills of diplomacy, debate and research;
provide international access to Yale's intellectual and professional resources;
enable students from around the world to meet some of their most intelligent peers and build long-lasting networks and connections.
Register HERE
More info HERE