Deadline: 1 August 2016
Open to: undergraduate, graduate and postgraduate students aged over 21 years old who are preparing for GMAT Exam
Scholarship: three months of Premium online GMAT Prep from Economist GMAT Tutor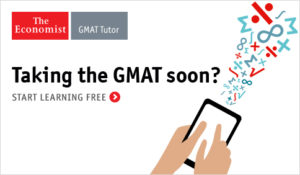 Description
The Economist GMAT Tutor is the first online GMAT prep course. According to independent GMAT Club reviews, the average student sees an 85-point score improvement! If you're applying to business school, you'll need an excellent GMAT score to impress the admissions committees, and Economist GMAT Tutor can help you achieve it.
Three ways Economist GMAT Tutor will help you hit your target score:
1  50-point score increase guaranteed: this program provides personalized feedback to help you understand why certain answers are better than others, thus increasing the efficiency at which you learn;
2 24/7 access to the online program and mobile app for 3-6 months;
3 Access to tutors when you need them;
GMAT Tutor will help you reach your full potential:
• Cover every section with comprehensive GMAT prep;
• Prepare for the AWA with personalized essay marking;
• Master the material with interactive lessons and live support.
Eligibility
Undergraduate, graduate and postgraduate level students aged over 21 years old who are preparing for GMAT Exam.
Scholarship
Chance to win 3 months of premium membership to the #1 online tutoring service: An Economist GMAT Tutor Premium Prep plan, which includes 5 practice exams, 6 tutor sessions, 5 essay markings, and 100 Ask-a-Tutor questions.
How to apply?
Enter the competition by doing the following:
• Take The Economist GMAT Tutor Challenge;
• Write a short motivational statement on why you should be the winner;
• Register and apply here