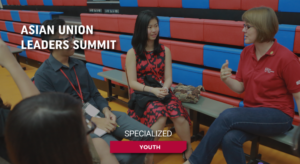 Asian Union Leaders Summit 2016 in Malaysia
Deadline: October 21, 2016
Eligibility: High school, college, and university students.
Venue: November 28 – December 2, Kuala Lumpur, Malaysia
Fees:
Normal – USD 1,200
Early Registration – USD 1,140 (before Sep 30, 2016)
Group Registration – USD 1,080 (for group of 3 & above)
Includes meals, accommodation and course materials. Flights are excluded
Description:
Every generation faces the opportunity and responsibility to meet the challenges of its era. Despite its immense potential, some of the greatest problems confronting Asia today, such as conflicting national interests, systemic corruption, environmental degradation, and entrenched poverty, are complex, transnational and urgent. With the future of one's country and region lying in the hands of its young people, it is crucial for young people to learn effective and strong political leadership. This 5-day leadership program takes the young people of Asia on a journey to learn how they can confront and resolve issues, and take a step forward in defining a future that is promising and thriving not just for themselves, but for their country and Asia too. Using leadership frameworks taught at Harvard University, participants will learn how to operate and mobilize group dynamics in an environment where the pace of political change is accelerating rapidly; develop and apply progressive ideas to make positive decisions for themselves and build inclusive Asian societies; exercise effective and impartial leadership; and uphold ethical values when entrusted with the role and responsibility as a leader.
Participants will engage in interactive workshops, professional development sessions and career mentoring with teaching faculty from Harvard University and Stanford University.
By the end of the program, participants will gain a deeper understanding of the problems and issues which are important to them, have a bird's eye view but also an on-the-ground perspective on why some legislatures work, and why others fail. They will also be exposed to the perspective of multiple stakeholders, including those "inside" like legislators or legislative staffers, and those "outside" such as lobbyists, reporters, or the public.
Key Benefits:
Through the program, participants will
Explore interdisciplinary frameworks for analyzing the current intra-regional challenges from on-the-balcony and dance-floor perspectives, and identify collaborative accelerators and inhibitors
Build analytical and behavioral skills, and develop tools to foster and sustain an entrepreneurial approach to problems
Learn fundamental concepts and gain fresh insights on problem-solving strategy
Understand the difference in culture and crisis-management practices from multi-nation perspectives
Develop a strong network of high achieving peers from different countries, interests and schools
Important Dates:
Application Deadline: October 21, 2016;
Early Bird Registration Deadline: September 30, 2016.