Deadline: 30 June 2016
Open to: young journalists, developers/coders, designers, as well as artists not older than 35 with excellent knowledge of English
Fellowship: EUR 1,150 per month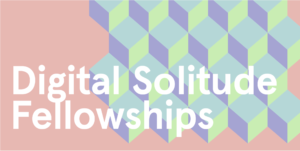 Description
As part of the Digital Solitude program, each year Akademie Schloss Solitude will be awarding a total of 24 months of fellowships to two to four people in 2016 and 2017. There is a special focus on digital projects in journalism, storytelling, art and cultural mediation, and media art.
Young professionals who have an interest in the content of Akademie Schloss Solitude and its interdisciplinary network and are also pursuing independent digital projects can apply for a fellowship. The program is offering space and flexibility to develop new ideas and formats, which will be published on or in connection with the online platform Schlosspost, a content focused online platform in English for the Solitude network. The website is simultaneously an online magazine and artist portfolio and is aimed at a global audience of young artists and those interested in the arts
Eligibility
The age limit for applicants is 35;
Young people with already completed education;
Excellent knowledge of English is a prerequisite for application;
Young professionals journalists, developers/coders, designers, artists and all other creatives.
Fellowship
The fellows includes a grant of EUR 1,150 per month (plus a one-time grant for travel costs for the journey to and from Stuttgart from the fellow's primary place of residence) and a combined apartment/studio, where electricity, water, and heating will be provided free of charge;
Fellows have access to a digital film editing studio, a printing and copy room, a library, and several computer workstations.
More info HERE