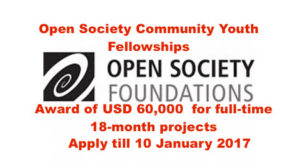 Deadline: 10 January 2017
Eligibility: applicants between the ages of 18 and 25
Fellowship: award of USD 60,000  for full-time / 18-month projects
Description
The Open Society Foundations' Youth Exchange, in partnership with the Human Rights Initiative and the Open Places Initiative, seeks applicants for its Community Youth Fellowships.
The Community Youth Fellowships will support dynamic activists aged 18–25 who want to implement a project of their own design that advances human rights in underserved communities. Human rights projects could include those relating to criminal justice, workers' rights, employment, education, health, housing, or immigration, among other subject areas.
Through these fellowships, the Open Society Foundations aim to provide young people at the early stage of their work with the support they need to develop great ideas that contribute to dismantling challenges in their communities and advancing the values of an open society. Applicants may employ, either alone or in combination, any number of strategies to achieve the goals and objectives set forth in their projects. These strategies include but are not limited to: grassroots organizing, public education, strategic communications, policy advocacy, and coalition building.
Eligibility
Applicants should be between the ages of 18 and 25. Their proposed projects should fall under one of the following options:

Option 1: focus on human rights and take place in underserved communities in Puerto Rico, Buffalo, or San Diego;
Option 2: focus on human rights in underserved communities anywhere in the United States; this opportunity is specifically for young persons with intellectual and developmental disabilities;

Applicants must be at the earliest stages of their careers, have and want to learn more about what it takes to be most effective as an activist;
Applicants directly affected by, or with significant direct personal experience of, the challenges, policies, practices, and systems their projects seek to address are strongly encouraged to apply;
Applicants with intellectual and developmental disabilities are also strongly encouraged to apply regardless of support required. Effective and meaningful support will be provided to ensure the candidate is successful.
Fellowship
The fellowships come with an award of USD 60,000 for full-time, 18-month projects (prorated for part-time or 12-month projects).
Application
To apply, applicants must complete the online form by January 10, 2017. Once registered, applicants will be able to proceed to the application itself, and upload the following documents:
Resume or bio: no more than two (2) pages;
Letter of intent (LOI): a single-spaced LOI (maximum two pages) structured according to the template you can find in the Download Files section; the LOI can be submitted instead as a video or sound recording (maximum four minutes) covering the same points in the template.
If you have questions or experience technical difficulties with the online application form, please contact the Youth Exchange at youth.exchange@opensocietyfoundations.org.
More information is available HERE.