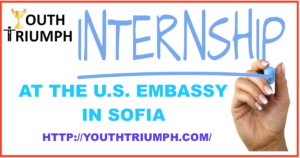 Eligibility: Foreign National Students, non-U.S. citizens
Deadline: May 14, 2019
Position: Student Intern in the U.S. & Foreign Commercial Service
Agency/Section: U.S. Department of Commerce/Foreign Commercial Service, Sofia, Bulgaria
Work Hours:  Flexible work schedule (minimum 25 hours per week)
Duration of Internship: Minimum four months as of June – July 2019
The U.S. & Foreign Commercial Service Office at the U.S. Embassy in Sofia is looking to recruit student interns to support office day-to-day activities.
Upon successful completion of the internship, a certificate and a reference letter will be provided.
The Foreign Commercial Service (FCS) Office of the U.S. Department of Commerce assists U.S. companies with their efforts to enter the Bulgarian market through representation, licensing agreements, direct sales, or joint ventures.
FCS assists Bulgarian companies in forming business relationships with U.S. companies by representing U.S. products, importing U.S. goods or services, or through joint venture and licensing arrangements, to name a few.
FCS analyzes information about the Bulgarian market, facilitates contacts with local businesses, promotes U.S. products in the Bulgarian marketplace, and advocates for U.S. business interests.
It assists trade missions to Bulgaria and provides logistical support to U.S. companies holding product launches and exhibitions.
The Sofia office works in a close cooperation with four other countries in Southeast Europe – Romania, Serbia, Croatia and Greece.
Interns will be collecting, analyzing and drafting/writing market intelligent reports, assisting with the timely and informative response to inquiries from U.S. companies and from our 100 U.S. Export Assistance Center offices, assisting with a wide range of tasks and responsibilities in preparation of trade events and trade missions; assisting with USDOC/Commercial Service fee-based programs, assisting in preparing presentations, PPTs and other marketing pieces.
For more information, please visit our website.
Eligibility
Must be at least 18 years of age at the time of appointment.
Only students who are non-U.S. citizens in Bulgaria or Bulgarian students studying abroad are eligible for the intern program, including any foreign nationals who are legal resident students in Bulgaria.
Applicant must be a student currently enrolled in an accredited college or university (with clear intent to continue studying through the time of the internship or return to education after the internship ends) and in good academic standing, able to work minimum 25 hours per week.
Skills and Abilities: Applicants must have strong interest in international trade, be ready to work with Microsoft Office 2016, have excellent English language command (speaking, reading and writing), have good customer service skills and be fluent in Bulgarian.
Applicants must demonstrate the potential to accomplish the type of work to be performed.
Applicants should be able to provide 2 (two) letters of recommendation and a certified document from the educational institution that the student is enrolled.
If selected, the student must pass a background check and receive security and medical certifications before commencement of the internship.
Apply
All applicants are instructed to address each selection criterion detailed above with specific and comprehensive supporting information.
Interested candidates for this position must submit a current resume or CV in English and 2 (two) letters of recommendation.
Only applications received in the U.S. Embassy Sofia, Human Resources Office before the closing date of this announcement will be considered and only short-listed candidates will be contacted for an interview.
Applications will be collected by the end of the day May 14, 2019 at:
Mail address:
U.S. Embassy Sofia, Human Resources Office
16 Koziak Str., Lozenets, Sofia 1408 // fax: (+359) 2-937-5231
E-mail: Sofia_Applications@state.gov
More information HERE