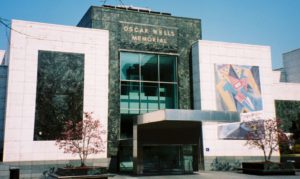 Deadline: 1 August 2016
Open to: undergraduates or graduate students in art, art history, museum studies or related fields
Remuneration: monthly stipend of USD 1,000
Venue: Birmingham, UK
Description
The Goodrich Internship is a year-long, part-time position.  The Intern will rotate between the four major departments within the Museum (Curatorial, Education, Registration, and Development) and will work closely with staff throughout the Museum.  He/she will be given considerable responsibility during his/her tenure, allowing him/her the opportunity to gain an in-depth perspective on museum work, from programming to exhibitions and beyond.
The Goodrich Internship begins in September 2016
Eligibility
The Goodrich Internship provides undergraduates or graduate students in art, art history, museum studies or related fields the chance to explore the possibilities of a museum career.
Financial conditions
Internship is a year-long, part-time position. The Intern will receive a monthly stipend of USD 1,000.
Application
All internship candidates should submit the following:
Application form;
A brief letter of interest;
A personal statement of no more than 500 words that explains why the applicant is interested in an internship at the Museum, why he/she is applying for a specific internship opportunity, what he/she hopes to achieve from the experience, and what he/she believes he/she can contribute;
Two letters of recommendation;
Copy of recent transcripts;
Resume (optional).
Apply HERE
Application materials that are not attached to the application form should be sent to:
Anne Forschler-Tarrasch
Birmingham Museum of Art
2000 Rev. Abraham Woods, Jr. Blvd.
Birmingham, AL, 35203-2278
aforschler@artsbma.org