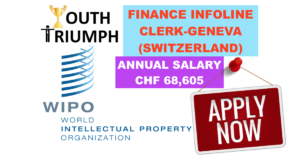 Eligibility: experienced candidates in the customer service or client-related functions
Benefits: annual salary (Net of tax):  CHF 68,605 (plus dependency allowances)
Deadline: 25 Jan. 2019
Description
The Finance Division plays the main role of managing and safeguarding World Intellectual Property Organization's financial resources in compliance with financial policies, legal regulations and accounting standards.
As the key focal point for finance and payment queries, the Finance Infoline Team provides variety of services from Monday to Friday between 9 a.m. and 6 p.m., and ensures that customers receive appropriate help on financial matters in a timely manner.
The incumbent provides advice and information in relation to financial questions from customers and internal WIPO services and carries out a range of financial support activities in support of the Income Section.
Eligibility
Essential- Excellent written and spoken knowledge of English.
Essential– Completed secondary education.
Desirable– Knowledge of German, any other official UN languages and/or French.
Desirable– Experience with ticketing or call tracking systems.
Essential– At least three years' experience in customer service or client-related functions.
Desirable– Experience working with an ERP system
Responsibilities and Duties
The incumbent will perform the following principal duties:
Facilitate the matching of customer information with accounting, financial or operational data and correct or verify errors;
Respond to questions of a financial nature received by e-mail, phone,or web chat from customers or internal WIPO services;
Record observations on process efficiency and effectiveness and make recommendations for change to team leader to enhance service quality;
Assist with maintaining the customer and knowledge database (contact pages, FAQs, standard replies etc.)
Give a feedback to team leader on recurring issues or queries;
Determine the cause of the issue, clarify complaints, select and explain solutions;
Follow a systematic approach when resolving issues and record outcome and follow-up for monitoring and quality improvement purposes, using a range of information tools & data management;
Often participation in customer service training to ensure skills are maintained and up to date;
Liaise with other national IP Offices, WIPO business services, and third parties or financial institutions;
Participate in the maintenance and processing of customer accounting records;
Liaise with the Infoline Team Leader on enquiries or issues when appropriate for further actions or escalations;
Contribute to customer service improvement projects and initiatives including updating statistics and performance measures;
Perform other related duties as required.
Annual salary (Net of tax):  68,605 CHF
Dependency allowances is available. 7,939 CHF per year for dependent spouse and 6,398 CHF per year for each dependent child.
Language allowance is available. German, Arabic, Chinese, Russian, English, French, Japanese, Korean, Portuguese and Spanish: 4,788 CHF per year for two of these languages, and 3,192 CHF per year for one of them.  The allowance is not payable for the main working language of the staff member or the mother tongue.  The grant of this allowance is subject to examination.
Apply
More information and apply HERE