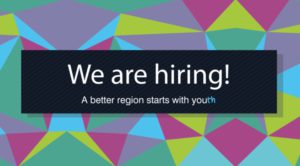 Deadline: 28 th September 2017
Eligibility: sufficient experience in the field of youth work and youth policy
Benefits: work in an exciting international environment
The Regional Youth Cooperation Office (RYCO) is an independently functioning institutional mechanism for youth cooperation within the Western Balkans. It has been created by an Agreement signed July 4, 2016 in Paris, by the governments of Albania, Bosnia and Herzegovina, Kosovo* , Macedonia, Montenegro and Serbia. The mission of RYCO is:
to support the regional exchange of youth, and their sharing of ideas, as a ground for future cooperation prospects in our region, based on the values of co-existence, tolerance and respect for human rights and diversity, as well as commitment to inclusion and security,
to step up regional cooperation among youth and youth-dedicated institutions and ensure implementation of joint programs for young people with the focus on the principles of democratic governance, sustainable economic development, education and innovation,
to coordinate youth cooperation in the Western Balkans The structure of RYCO consists of Governing Board, Secretariat and Advisory Board. For more information please read the Statute of the Regional Youth Cooperation Office and the Agreement on the Establishment of the Regional Youth Cooperation Office. The Secretariat of RYCO consists of a Head Office in Tirana, Albania, and of Local Branches in each of the five other Contracting Parties. The Secretariat is made up of the Secretary General, Deputy Secretary General as well as administrative, support and program staff. * This designation is without prejudice to positions on status, and is in line with UNSC 1244 and the ICJ Opinion on the Kosovo declaration of independence. Regional Youth Cooperation Office Secretariat, Local Branch Officer in Bosnia and Herzegovina: General Information, Job Description, Requirements and Necessary Documents General Information: Job Title: Local Branch Officer for Bosnia and Herzegovina Located: Sarajevo, Bosnia and Herzegovina Expected starting date of the contract: October 2017 Foreseen monthly remuneration: 1.100 Euro (full package) Job Description: The Local Branch Officer will be in charge to organize the work of the Local Branch Office, co-ordinate and implement program activities and to follow RYCO-projects implemented within Bosnia and Herzegovina.
Description:
Represents the Regional Youth Cooperation Office in Bosnia and Herzegovina
Manages the Local Branch Office in terms of overall administration (maintenance of administrative, financial and program documentation, as well as equipment and other functionalities)
Manages external human resources within the Local Branch Office (volunteers, interns, assistants) by allocating and monitoring their tasks
Coordinates and implements Local Branch Office program activities set by Strategic plan and deriving Action plans
Submits weekly reports to Head Office for program activities in line with predefined Action plans
In accordance with prescribed rules and procedures, plans and implements activities related to the preparation of RYCO Open Call granting
Provides assistance to applicants related to RYCO Open Call granting procedures in Bosnia and Herzegovina
Monitors the implementation of supported granted projects in Bosnia and Herzegovina
Contributes to RYCO Head Office design of program activities
Participates in designing RYCO regional activities, with special focus on knowledge and experience transfer among LB Offices in all Contracting Parties
Organizes public events and establishes relations with local media for RYCO promotional and informational purposes
Establishes and maintains partnerships with key stakeholders in Bosnia and Herzegovina (relevant ministries, civil society organizations, embassies, other international organizations)
Attends events (as participant, or guest panellists/speaker) important for RYCO's scope of work
Contributes to design and creation of public relation, social media and visibility contents correlated with Local Branch Office activities
Organizing visits of the Secretary General and/or Deputy Secretary General to Local Branch Office
Performs other related duties as assigned by the Secretary General or Deputy Secretary General.
Other criteria:
Minimum of 3 (three) years of experience in the field of youth work and youth policy
Thorough understanding of project/program management techniques and methods
Good understanding of the social and political context of Bosnia and Herzegovina, as well in the region · Excellent knowledge in performance evaluation and change management principles
Excellent knowledge in MS Office;
Experience and ability to work in intercultural environment
Ability to simultaneously work on multiple projects / tasks
Excellent interpersonal and communication skills
Time management skills and ability to prioritize work
Outstanding leadership and organizational skills
Problem-solving ability
Proficient command of English
University degree of at least 3 (three) years of higher education. Advanced university degree will be considered as an asset
Apply
Candidates need to enclose following documents to the application:
Application-form-RYCO-Local-Branch-Officer-BiH
CV (Europass CV format)
Scanned copy of higher education degree
Scanned passport copy
Criminal Record Certificate
2 (two) written letters of recommendation
The Application form, the 2 (two) letters of recommendation and the Europass CV must be in English.
Applications can be submitted by e-mail only. If you are interested to apply for the position of RYCO Local Branch Officer for Bosnia and Herzegovina and you fulfill all the criteria, please send your application containing all necessary documents by email to office@rycowb.org no later than 28 th September 2017 by 18h (Central European Time). Applications received after the given deadline, as well as those not accompanied by necessary documents, will not be taken in to consideration.
Only short listed candidates will be invited for a Skype interview, which will be conducted in October 2017.
More information HERE.