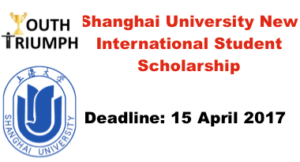 Deadline: 15 April 2017
Eligibility: international students
Scholarship: includes waiver of tuition fee, accommodation provided, monthly stipend and health insurance
Description
Shanghai University, abbreviated as SHU or Shangda, is a public research university located in Shanghai, China. Shanghai University is one of the nation's leading research universities. Shanghai University is offering scholarships to new international students. These scholarships are available for pursuing bachelor, master and doctoral degree programme (except MBA and MTCSOL)
Eligibility
Be a non-Chinese citizen in good health;
Not be an enrolled degree student in Chinese universities at the time of application;
Be a high school graduate under the age of 25 when applying for the undergraduate programs;
Be a Master's degree holder under the age of 40 when applying for doctoral programs;
Be aBachelor's degree holder under the age of 35 when applying for master's programs;
Be excellent in academic and extra-curricular performance and yet not be rewarded any other scholarships offered by Chinese government.
Scholarship
Full Scholarship:
A waiver of tuition fee;
Free on-campus dormitory accommodation;
Stipend: Bachelor: 150 USD/ month; Master: 244 USD / month; PhD: 300 USD/ month;
Comprehensive Medical Insurance and Protection Scheme for International Students in China.
In order to apply please fill the application.
Application
You need to submit also the following documents:
ID photo: one-inch certificate photo (390*570) with blue colour background;
Passport copy;
Highest Degree Certificate and Transcripts;
Supervisor Acceptance Letter;
Study Plan or Research Proposal in China: Written in English or Chinese, including research achievements so far, reasons of choosing;
SHU, study and research plan, future career plan, etc;
Two Letters of Recommendation: Written in English or Chinese by two different professors or associate professors from previous academic institutions, or work supervisors, etc;
Others (Refer to Departmental standards): Examples of Artworks (6 color pictures) or Music Work (1 audio tape) (Only for the applicants applying for Fine Arts and Music).
More information is available on the official webpage