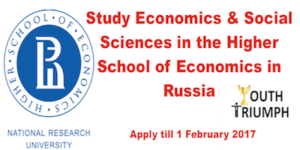 Deadline: 1 February 2017
Eligible: international students holding bachelor's degree
Scholarship: covers full cost of tuition and subsidized accommodation at the Higher School of Economics' dormitories
Description
The Higher School of Economics (HSE) is one of the top universities in Russia and one of the leaders in Eastern Europe and Eurasia in economics and social sciences. their students come from all over the world to study in English or Russian in Bachelor's, Master's, and non-degree programs. Applications are currently being accepted for full-tuition scholarships to study at National Research University, Higher School of Economics in the field of Computer Science, Economics, Humanities, International Affairs, Management, Mathematics, Social Sciences both in Moscow and St. Petersburg.
Other requirements
You must already hold a Bachelor's degree or earn one before the program start date (September 2017);
If English is not your native language, IELTS or TOEFL exams are required to demonstrate your proficiency.
Scholarship
Scholarships cover the full cost of tuition for Master's programs over the course of two years and a subsidized accommodation at HSE dormitories available for around 22 USD per month.
Application
Apply online using through the online application form. For many programmes, you should be ready to upload include:
Scan of the first page of your passport;
Abstract of your undergraduate thesis;
Scan of your diplomas and academic transcripts (if you have not yet received your Bachelor's diploma, please include an official copy of your most recent academic transcript);
Letter of motivation (describing your reasons for applying in the context of your long-term career goals and background, 500 words);
Resume/CV (including information about your education, professional, and research experience, as well as language proficiency and other skills);
Exam results confirming language proficiency (optional).
More information is available HERE.