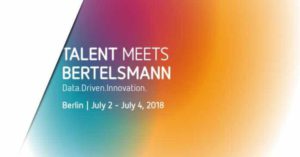 Deadline: 13 May 2018
Eligibility:
Bachelor, Master or MBA students or doctoral candidates, ideally in the field of economics, humanities, media management or business informatics with a keen interest in data science;
Experience in developing creative, data-driven business models and a fascination with cutting-edge digital trends;
Proven affinity for media and data in projects conducted outside of a school or university context;
Above-average academic performance, as well as strong analytical and conceptual abilities and communication skills;
Fluency in written and spoken English.
Dates and Venue: 2 – 4 July, 2018 in Berlin, Germany
Description
It's all about data. And all of your ideas: Are you ready to shape the digital future? Are you creative and passionate about the media landscape and data-driven business models? Bertelsmann is looking for talents with an entrepreneurial, innovative mindset to participate in "Talent Meets Bertelsmann 2018" from July 2 to July 4, 2018. Big Data offers big challenges and opportunities – you'll participate in demanding workshops, working hand in hand with experienced Bertelsmann entrepreneurs on key business ideas, and present your results in front of a jury of Bertelsmann executives. Get to know Bertelsmann from an inside perspective!
What is it offered?
An invitation to Berlin from July 2 to July 4, 2018;
Workshops on future trends in Bertelsmann's business areas;
Attractive prizes for the best ideas and designs;
An unforgettable party with a concert from a BMG talent;
Individual career consulting and outstanding networking opportunities;
Membership in the extraordinary "Talent Meets Bertelsmann" network, which gives you the chance to build a long-term relationship with us and other talented members.
Costs 
The organizers will cover the costs of each participant's hotel room for two nights (July 2 to July 4, 2018), as well as travel expenses up to 300 EUR for students coming from European schools and up to 500 EUR for students from non-European schools. All participants are invited to join a closed Facebook group so that you can get to know one another in advance of the event.
Apply
Send an application (in English) telling about yourself and your goals;
Your resume should clearly indicate that you are fascinated by media as well as data, and your motivation letter should explain why you are eager to pursue entrepreneurial challenges.
Please attach any certificates attesting to your proficiency in English if available.
More information HERE