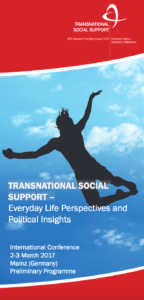 Deadline:  10 February 2017
Eligible: participants from around the world
Venue:  2-3 March 2017 in Mainz, Germany
Registration fee: €50 (€25 for students)
Description
Transnationalism has become a useful lens for investigating processes of migration, mobility and social support. In recent years, efforts have been made to broaden the concept encouraging an examination of these issues from multiple and interdisciplinary points of view. The conference presents varied insights emerging from interdisciplinary empirical research and theoretical perspectives on mobility, migration and in particular social support in transnational contexts.
The Conference will take place on 2-3 March 2017 at Erbacher Hof Akademie & Tagungszentrum des Bistums Mainz Grebenstraße 24–26 55116 Mainz (Germany)
Topics include:
Discourse perspectives on transnational NGOs and Africa
Higher education, the labour market and care in the context of migration
Social encounters and relationships in transnational and local spaces
Bodies in virtual and physical spaces of (non-)copresence
Forms and dynamics of informal social support in transnational settings
Eligibility
Anybody can apply
Costs
The registration fee is €50 (€25 for students) and includes dinner on Thursday, lunch on Friday, and drinks. Much to our regret, we will not be able to fund travel costs or accommodation.
Application
Please register by 10.02.2017 via email: rtg@transsos.com
If you have any questions, please email rtg@transsos.com
More info HERE