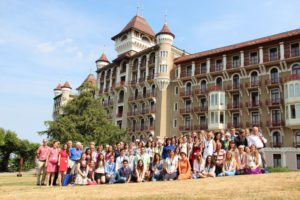 Deadline:  April 15, 2017 Midnight (CET) time
Eligibility: people from all backgrounds are encouraged to apply, including recently arrived migrants, as well as representatives of minority communities
Dates and Venue: 14-21 July 2017, Caux, Switzerland
Description
The "Young Ambassadors Programme" (YAP) is part of the European Project of Initiatives of Change (IofC), which aims to bring together young people caring about the future of Europe.
The program consists of two days training designed specifically for the Young Ambassadors (14th-16th July), followed by full participation in the AEUB forum (17th-21st July).
Launched in 2014, Addressing Europe's Unfinished Business (AEUB) is an Initiatives of Change program that seeks to engage European citizens from all backgrounds to conceive and participate in actions developing a spirit of partnership and solidarity across Europe in order to achieve the needed peacebuilding efforts in this continent.
Other requirments:
This program aims to invite young people from all over Europe who are actively and substantively contributing in the discussion about Europe. Young people who demonstrate their active participation through civil society initiatives, NGOs, political organizations and structures are invited to join this forum in order to bring their input, ideas and experiences.
People from all backgrounds are encouraged to apply, including recently arrived migrants, as well as representatives of minority communities. Should you wish to represent any minority community or group, please specify in your application.
Applicants for the Young Ambassadors Programme are expected to fulfil the below:
Be present at Caux from 14th July 2017 (4pm) and not leave before the end of the Closing Session on Friday 21st  July, 2017 (12.30pm);
Be actively involved in civil society and other initiatives related to Europe;
Be able to communicate and work in English;
Be motivated to contribute to developing new ideas on Europe;
Be ready to share own challenges faced in their own communities and work about Europe;
Cover your travel expenses to and from Caux, Switzerland;
Complying with visa requirements (where applicable);
Help disseminate the event information among your contacts and on social media
Scholarship
The program provides scholarships for participation;
The scholarships cover the conference fee, accommodation and the meals.
The scholarship does not cover the travel to and from Caux (the closest airports are Geneva and Zurich) or visa connected expenses.
Application
To apply, please:
Fill in the application form HERE;
Upload your CV;
Submit a short video (90 seconds) in which you briefly state what you see as the most important problem facing Europe today, and outline what you would do about it. Post the video on YouTube.
More information HERE.