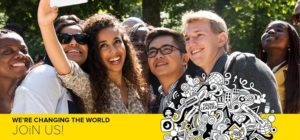 Deadline:  9 March 2017
Eligibility: young people (aged 21-26) from across the world
Costs- Visa, travel and accommodation will be covered by the European Commission
Venue: 7-8 June 2017, Brussels, Belgium
Description
Young people from all corners of the world, aged 21 to 26, are invited by the European Commission to take part in the Young Leaders Programme at this year's European Development Days (EDD 2017). The event is Europe's leading forum on international cooperation and development and it will take place in Brussels on 7 and 8 June.
The Young Leaders Programme will engage young leaders to be part of the debate on the future of international development cooperation.EDD 2017 will take place in Brussels on 7 and 8 June 2017. They will focus on the international community's strategic response to the most pressing global challenges of the day, as part of the international efort to meet the Sustainable Development Goals (SDGs). The event will bring together development actors committed to tackling poverty worldwide, with an emphasis on engaging the private sector as a key and responsible partner in economic development. This year's forum – Investing in Development – will include three main themes: Investing in People and Planet, Investing in Prosperity, Investing in Peace and Partnerships. Achieving inclusive and sustainable growth, creating decent jobs, particularly for women and young people can be achieved thanks to more investment, in particular with the full engagement of the private sector both as an economic and responsible actor in development.
Other requirments:
The European Commission is looking for 16 extraordinary young people (aged 21-26) from across the world, with proven commitment and community engagement, to represent the work and impact on development achieved by youth. Young people are 'movers and shakers' in their communities and countries, and are key to solving the universal challenges outlined in the EDD 2017 programme.
Costs
The 16 selected Young Leaders will be invited to Brussels, Belgium, and all expenses (Visa, travel, accommodation) will be covered by the European Commission.
Application
Please note that you can save your application at any time, in order to complete your form in instalments. You just need to save your progress before you exit the form, in order to come back to it at a later stage if you wish. However, please do not forget to submit your completed application form before 9 March 2017 in order to apply to the Young Leader Programme. For that, please click the SUBMIT button on the last page of the form. Please note that the submission form must be completed in English.
Apply HERE.
Official web-page is available HERE.
More info bellow:
If you have any questions, check the Guidelines or write to:  youth@eudevdays.eu.
The EDD Youth Team contact information:
Daniele Brunetto – Youth Coordinator dbrunetto@eudevdays.eu
Caroline Kroeker-Falconi – Youth Adviser ckroekerfalconi@eudevdays.eu