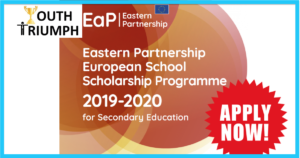 Deadline:  March 1, 2019 at 12:00, Georgian time (noon, UTC+4.00)
Eligible: students from Belarus, Ukraine, Georgia, Armenia, Azerbaijan, Republic of Moldova
Expenses: all costs will be covered
Description
The Eastern Partnership School is situated in Tbilisi, and provides a quality education to students from partner states, with scholarships to students from the six partner states for an IB Diploma Program with a focus on European Studies.
Through the direction and support of the General Secretariat  of the European Schools courses in languages, human sciences, arts, literatures and history, have been aligned to the European Baccalaureate (EB) studies and complemented by a distinct European perspective.
In their studies and learning activities, students have the opportunity also to reflect on European issues.
The Program gives the comprehensive and rigorous 2 year academic course of the IB Diploma combined with the opportunity to engage in the specialized study of Europe and EU issues.
Benefits
Students will be leaving in the boarding facility situated at the premises of the New School. In the boarding facility, students will be accommodated in shared rooms for two, which are fully equipped.
Students will have a medical insurance.
Students are allowed to travel to their home country 4 times per year (during winter, autumn, summer and spring holidays). Scholarship will cover these expenses. Learning materials are provided by the New School, while specific equipment required for IB Diploma will be included as well.
Most of the basic leaving expenses are included in the scholarship, so students may need to buy their clothes and pay for additional activities not covered by the scholarship.
Public transport will be free of charge for the scholarship students
The greater part of the essential leaving costs are incorporated into the grant.
Eligibility
Students eligible to apply should be from:
– Ukraine;
– Azerbaijan;
– Georgia;
– Armenia;
– Moldova;
– Belarus.
More info and apply HERE