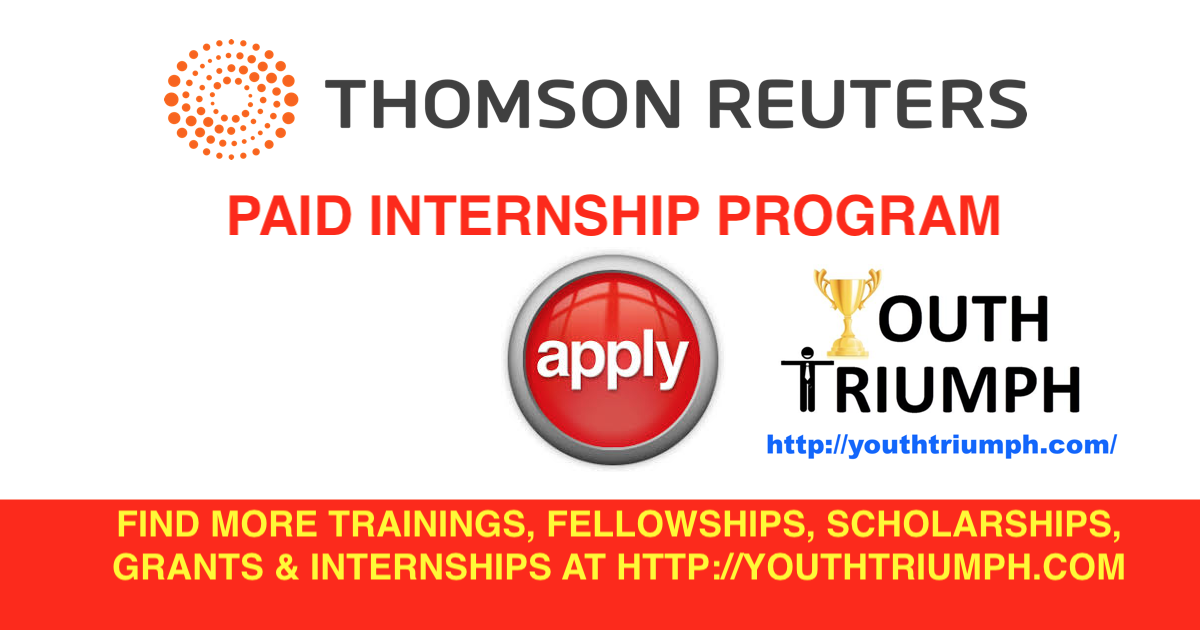 2022 Thomson Reuters Paid Internship Program is open to all the recent graduate and undergraduate students worldwide. Thomson Reuters paid internship is with duration of 3 months for international students.
The application process opens a year thrice in January, May, and September.
Open to participants from all around the globe.
There are different internship opportunities depending on your studies and background.
Bellow you can find in details the different Thomson Reuters Paid Internship Programs for 2022:
1/ SALES
In the sales internship, you will:
Gain valuable hands-on experience about our sales support processes. You will get exposure to executing steps in a sales call and how to overcome obstacles with prospective clients. Paired with a full-time sales rep, you will have a real-world view into a sales career with us. You will get an opportunity to learn from top sales representatives on how to hone your skills for solution-based and consultative selling.
– Work on building value propositions;
– Build leads in our customer relationship management (CRM) system;
– Learn and get exposure to selling Professional Content and a Suite of Products.
2/ TECHNOLOGY
In the technology internship, you will:
Apply your skills and passion for technology to work with a team driving innovation throughout the entire software lifecycle – from defining specifications and architecting designs to writing efficient, maintainable code. Here's your chance to participate in enhancements of Thomson Reuters software that is utilized by professionals across the globe.
– Exposure to real-world application of machine learning / natural language processing;
– Learn new development practices to deliver solutions at scale in a business setting;
– Build and test software involving Cloud, API, Big Data, AI, and/or web-based technologies.
3/ MARKETING
In the marketing internship, you will:
Directly contribute to marketing programs designed for law firms, corporate in-house counsel, government agencies, or tax and accounting firms. Your role as a marketing intern may include assisting with digital marketing, influencing customer messaging, identifying marketing white space opportunities, promoting world-class products and solutions, or using data and analytics to deliver an exceptional customer experience.
– Get direct exposure to a day-in-the-life of a Thomson Reuters marketer;
– Provide support to the team on the execution of marketing plan activities;
– Complete a capstone project, leaving an impact on the marketing team.
4/ JOURNALISM
In the journalism internship, you will:
Learn journalism at the world's largest independent, international, multimedia news agency, working alongside our most seasoned reporters and editors. Our internships offer first-hand reporting experience on the top business, political and general stories reporting on any given day across text and visual platforms. The Reuters North America internship lasts for 10 weeks and begins in early June.
– Locations: US: New York, Washington, DC, Chicago, San Francisco; Canada: Toronto
– Application dates open every September
Join teams that break news to professional, media, and consumer markets across digital, visual, and traditional platforms. Our fellowship is geared towards you if you are an early-career reporter, post-graduate or professional exploring a career shift into journalism. Reuters NABJ fellows develop expertise in data-driven journalism and multimedia storytelling and build skills in investigative reporting and generating original story ideas. Fellowships are awarded on a rolling basis.
– Gain mentorship by Reuters senior journalists;
– Work in a nine-month position in New York, Washington, D.C., or another U.S. bureau;
– Hone your skills in building sources to break news and deliver deeply reported stories in tightly written prose;
– Participate in intensive classroom learning.
5/ LEGAL
In our legal professionals internship, you will:
Build expertise in Pricing & Revenue Management by executing pricing strategy, as well as establishing retail pricing across product lines for law firms. Learn how to effectively use pricing strategies and impact proposition strategy and marketing plans for law firm customers. Analyze opportunities and, potentially, implement strategic programs that drive retention and new sales revenue.  You will learn to work with large amounts of data to draw conclusions, show trends, and provide a path forward on a variety of projects.
– Develop proposition strategy surrounding the integration of new products into a segment;
– Create financial analysis and segmentation analysis;
– Learn pricing and commercial policy initiatives.
6/ FINANCE
In the finance internship, you will:
You will be involved in the day-to-day operations of the finance division to gain a real-world understanding of financial analysis and its effects on business decisions. Within this role, you will receive professional experience and hands-on training with other finance professionals to grow your technical and soft skills. As a finance intern, you will complete value-added projects like the following:
– Construct and analyze full P&L views for specific products to improve profitability;
– Create a customer-based revenue analysis for a recent acquisition;
– Develop a dashboard of critical success measures for an operations department;
– Identify key drivers of revenue attrition and developing recommendations for improved performance.
7/ OPERATIONS
In the operations internship, you will:
Be exposed to business analytics, project management, change management, and knowledge management operations projects.  This position employs advanced analytics with data manipulation and new product generation.  As an intern, you will work on process research and improvement strategies within the operations function.
– Research workflow improvement recommendations;
– Design infographics for operations functions;
– Create dashboards and delve into campaign analytics.
8/ CONSULTING
In the consulting internship, you will:
Interact with multi-national customers by solving business & technology problem related to supply chains, tax & compliance, legal and risk. You will work on a wide breadth of projects including the implementation of enterprise software, content, and services to our customers.  You will also be exposed to the TAX & TRADE, LEGAL and RISK platforms and all services provided across our Corporates business.
– Collaborate with best in class industry-leading software and help deliver project implementations;
– Engage with other Thomson Reuters teams such a Product Management, Technology and Customer Support.
9/ PRODUCT STRATEGY
In our product strategy internship, you will:
Gain real-world product strategy experience working with our digital solutions.  Working on our product strategy team you will be introduced to go-to-market strategies for new products and product enhancements.  As a product strategy intern, you will conduct customer feedback market research, growth strategies, and gain an understanding of merchandise creation.
– Analyze customer and market analytics;
– Learn commercial policy recommendation for sales processes;
– Conduct market research for competitive intelligence.
10/ EDITORIAL
In the editorial internship, you will:
Utilize your legal acumen while learning how to apply risk and compliance within editorial functions. As a law student or newly graduated attorney, you have opportunities to learn about data protection laws and requirements globally, refining your research and writing skills within the area of global privacy. You will also gain exposure to regulatory analysis and research and provide legal administrative support. This role is geared toward students excited by alternative legal career pathways.
– Support legal update initiatives;
– Work on editorial publishing migration projects;
– Gain a global perspective with legal research, Brexit, or new content creation.
11/ MANUFACTURING
In the manufacturing internship, you will:
Gain hands-on experience in our 1.3 million square foot manufacturing and operations facility. Within this role, you will get exposure to what it means to work within a global print proposition strategy team in the areas of distribution, printing, subscription services, engineering, and print and bindery operations.
– Research and revamp standard operating procedures like productivity & cost control and safety & quality control;
– Get exposure value stream mapping and kaizen events;
– Conduct continuous improvement implementation and training.
Application process consists 4 steps:
1/ Apply online
2/ Assessment
3/ Prep for your interview
4/ Aced our interview? Your offer is on the way
BEING A THOMSON REUTERS INTERN HAS ITS PERKS:
INTERNSHIP CULTURE
Intern-focused events, weekly social hours, dedicated Intern Appreciation Day, fireside chats, partnerships with Business Resource Groups, and recognized company culture awarded for our diversity and inclusion.
COMPENSATION
Competitively paid internships with company-designated holidays and the possibility of "Returnship"!
LEARNING & DEVELOPMENT
Personal and professional growth with on-the-job coaching from mentors and managers that care. Connect with teammates across the globe with our Ten Thousand Coffees Cafe.
SOCIAL IMPACT
Intern volunteer days with opportunities to volunteer with our Business Resource Groups to make an impact in your community.
Apply HERE
More information HERE