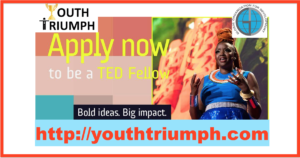 Deadline: 27 August 2019
Eligibility: doers, inventors, makers, advocates, musicians and artists, scientists, filmmakers and photographers, entrepreneurs, NGO heads, and human rights activists, aged 18 and over
Benefits: covered costs of transportation to and from the TED conference, any visa you may need, accommodations and food while at the conference and conference registration
Description
Every year the TED Fellows program selects a new group of extraordinary, multidisciplinary individuals by open application. They look for innovators on the rise in their respective fields with bold, original work.
The TED Fellowship program has the potential to catapult your career forward. By attending and speaking at the TED conference, you'll be given a platform to share your work and ideas far and wide, and you'll meet individuals who can help your career. As a Fellow, you'll also join the powerful global network of TED Fellows – innovators who may be future collaborators. Fellows also have access to personal mentorship opportunities, public-relations guidance, speaker coaching and more.
The next TED Conference will take place in Vancouver, Canada from 20-24 April 2020. Check more information here.
Eligibility
All applicants must be 18 years or older by the time they apply.
They look for different applicants than many other leadership-oriented programs. Instead of business people, professionals, policy wonks and government officials, the TED Fellows program focuses on doers, makers, inventors, advocates, filmmakers and photographers, musicians and artists, scientists, entrepreneurs, NGO heads, and human rights activists.
In addition to impressive accomplishment, fine character and a good heart are also important traits they look for in TED Fellows. More than anything, this focus on character has defined the success of the TED Fellows program.
Benefits
They cover the costs of transportation to and from the TED conference, any visa you may need, accommodations and food while at the conference and conference registration.
Application tips
Before filling out your TED Fellowship application, please review these tips. They're designed to help you submit your best application possible.
Apply early.
Applications are open for over a month, but please don't wait until the last day to submit. The deadline is at 11:59pm UTC on the day applications are due. We cannot accept late applications.
Be concise.
Quality over quantity. We're looking for as much information about you as possible, but we intentionally give you limited space. This is because we want you to zero in on what makes your work and background truly remarkable. Please use clear, concise language and be specific in describing your work and achievements. Also be mindful of our character limits, which include spaces.
Non-traditional educations are welcome.
The TED Fellows program is not an academic fellowship. Your class rank and GPA hold little weight. We want to see you in your many dimensions — what you've achieved, what you're currently working on and what you want to build in the future. A formal or traditional education is not necessary if you have done something remarkable.
Tell us what makes you exceptional.
We're choosing from a very talented pool of applicants, so we encourage you to clearly articulate your achievements. Share all of your most impressive projects — from new inventions and innovations to groundbreaking research or advancements in human rights. If you are working as part of a group, it is important that you delineate your specific contributions to the larger project.
Link wisely.
Links to your website, portfolio or best press help us get to know you better. Even consider creating a website or updating an existing one with your most high-impact projects so that we can get a full understanding of your work. Please make sure your links are all active.
Save an offline copy.
There is no way to save an in-progress application, so we recommend you compose your answers offline. We cannot be responsible for text that gets lost in the application process.
More information is available HERE