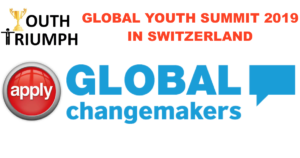 Deadline:  7 Feb. 2019
Eligibility:  participants can be from each country from the world
Dates and Venue: 14 to 20 July 2019 in Zurich, Switzerland
Benefits: flight ticket and transport to the Summit venue in Zurich and back, accommodation and food
Description
Calling all passionate, dedicated, enthusiastic social entrepreneurs, community organizers, volunteers, activists, and campaigners who are working towards attaining the Sustainable Development Goals.
Share your work with us by applying to the summit and have a chance to be selected as a Global Changemaker and participate the fully funded Global Youth Summit 2019.
The 2019 Global Youth Summit will take place from 14 to 20 July in Zurich, Switzerland and we will invite 60 exceptional Changemakers. They will should be aged 18-23 years old in order to join us for a life-changing week of learning, networking and fun alongside the world's most inspiring young leaders. As one of the 2019 Global Changemakers participants will join the network of over 1000 young changemakers working to make a difference in over 180 countries around the globe and be eligible to apply for grant funding.
Eligibility
Youngsters who are enthusiastic about improving the world, have found a way to understand this vision and plan to proceed with their work are very welcome to apply.
Applicants should be between 18 and 23 years old at the time of the summit (those born between 14 July, 1995 and 20 July, 2001) and may be from any nation.
More info and APPLY HERE