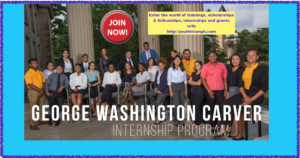 Deadline: October 25, 2019
Description
The Internship is a great professional opportunity for students who are interested in global issues of poverty, hunger, and development.
Interns will have opportunity to learn first-hand both the private and public side of working in an international non-profit organization and increase their understanding of the international fight against poverty, hunger and malnutrition.
Interns will work closely with a mentor from the staff.
They will become integral part of this internationally known organization and interact with government officials, World Food Prize Laureates, leaders in industry and business, international experts in science and agriculture, and members of national and local media.
Interns come from a variety of backgrounds. Duties of the interns will be specialized depending to an individual's skills, background, and area of interest.
This internship is based in Des Moines, Iowa. It is unpaid. Unfortunately, Foundation is supporting an Interns' travel expenses the internship venue or housing logistics while in Des Moines. Also costs for the visa if the live outside of the USA.
Each semester, a group of highly qualified undergraduate and graduate students is selected for this great program, which provides interns with the opportunity to take significant initiative and responsibility in planning and carrying out a wide range of the Foundation's projects in the following areas:
– Education Youth & Programming;
– Public Relations & Communications;
– Archival;
– Event Planning;
– Graphic Design;
– Lecture Management & Awards;
– Logistics & Symposium Planning;
– Grassroot Efforts & Community Relations.
Eligibility
It is a must that interns work 12 hours per week between 9-5pm Monday through Friday.
The program gives opportunity for flexibility for the agenda of each intern. Some of the interns are choosing the full time working schedule.
Start and end dates of the internship are flexible. Minimum duration of the program is 3 months.
Interns are eligible for course credit. Internship is unpaid.
Needed documents for the internship application are:
– Cover letter
– Resume
– Sample of work (if you are applying for graphic design)
Please keep in mind that all people selected for the program are subject to a background check.
Successful applicants demonstrate:
– a solid ethic in fulfillment of their working duties;
– a capacity for analytical thinking;
– a strong academic background;
– to be flexible learners;
– impeccable attention to detail;
– excellent written and oral communication skills;
– to working independently;
– to share commitment to The World Food Prize Foundation's values.
Apply HERE
More information is available HERE