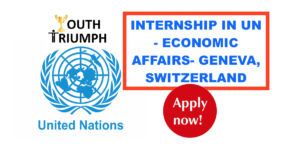 The internship will be in the Sustainable Energy Division withing the United Nations Economic Commission for Europe based in Geneva, Switzerland.
Eligibility
Candidates to should at the time of application meet one of the following requirements:
-Have graduated with a university degree, as defined above, and, if selected, must commence the internship within a one-year period of graduation;
-Be enrolled in a graduate school program (2 university degree or equivalent, or higher);
– Be enrolled in the final academic year of a first university degree program (minimum Bachelor's level or equivalent).
For this position, studies in economics, energy, international relations, sustainable development,  or equivalent are must.
Computer literacy in standard software applications;
Candidates for all countries are accepted.
No professional work experience is required for the position.
The position is for a duration of 3 to 6 months within the period 01 September 2018 to 31 December 2019.
English and French are the working languages of the UN Secretariat. For this internship, fluency in English is a must. Working knowledge of French or Russian is an desirable.
Obligations
The intern should assist to the work of the Sustainable Energy Division as follows:
To help the secretariat and national experts in collection of data, via web search, and preparation of documentation;
To assist in the preparation and servicing of the intergovernmental meetings in the areas covered by the Division, including energy efficiency, energy for sustainable development, cleaner electricity production, natural gas and resource classification and managementrenewable energy,energy security, coal mine methane;
To draft studies conduct research, and to prepare promotional material related to a number of the above mentioned fields.
Desired skills:
– Planning and Organizing skills;
– Good communicational skills;
-Works collaboratively with colleagues to achieve the goals of the organization;
Interns are considered type I gratis personnel. They are not staff members. The UN does not financially remunerate interns. Costs and arrangements for visas, travel, accommodation and living expenses are the responsibilities of interns or their sponsoring organizations/ institutions.
Apply HERE