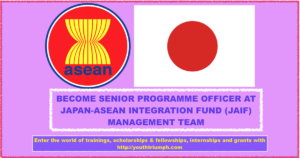 Deadline: September 6, 2019
Description:
Japan and ASEAN has a long year's beneficial partnership. For last 3 decades Japan has been one of the main contributors and development partner for the economic, social and political development of ASEAN.
The Japan-ASEAN Integration Fund (JAIF) was officially created in March 2006.
Japanese Government and ASEAN the agreed to establish JAIF Management Team (JMT) within the ASEAN Secretariat (ASEC) in Jakarta.
JMT roles include but they are not limited to:
– To assist in the review of project proposals;
– To be a point of contact for enquiries in general matters;
– To monitor the progress in supported projects of JAIF and keep track of the progress;
– To update on a monthly basis the financial balance of JAIF;
– To provide with inputs for improvement of the proposals on procedural and financial matters
The JMT reports to the ASEAN Japan Joint Cooperation Committee Working Group (AJJCC-WG).
Qualified Japanese and ASEAN nationals are encouraged to apply for the job opening.
Responsibilities and Duties:
The SENIOR PROGRAMME OFFICER (OUTREACH AND MONITORING) must be ASEC Senior Officer-level position who provides coordination support and general management to the Programme Coordinators and Director in order to ensure effective and efficient implementation and design of JAIF.
The Senior Program Officer will:
– To prepare drafts of minutes from the meetings when it is necessary;
– Provide operational support for overall outreach and monitoring of JAIF supported activities, projects and programs;
– To perform other related tasks as requested by Program Coordinators and Director in need;
– To help the Program Coordinators in program outreach and activities for monitoring.
Desired experiences and qualifications:
– English language proficiency;
– An asset will be any experiences in working for JAIF related projects and/or programs;
– Solid understanding of regional and international issues, knowledge of ASEAN activities and programs;
– Knowledge of Japan- ASEAN strategic relations is an advantage;
– Post-graduate degree in an area relevant to Evaluation and Monitoring of aid-funded programs or program management;
– Demonstrable experience responding to communicating evaluation or research findings;
– Proved ability to develop and maintain working relationships with different stakeholders;
– Proven ability for adherence to deadlines and accuracy under pressure;
– Minimum of 5 years of experience with evaluation and monitoring for aid-funded programs in regional and/or international agencies or governmental level.
– Sound interpersonal skills, including experience in international settings and cross-cultural environment;
– Undertaking field missions' ability;
– Experiences in analyzing and processing primary and secondary data from development projects is necessary.
– Demonstrable experience in work of databases such as the management, storage, and dissemination of information.
– Experience in developing communication products in English;
– Competency in computer skills with good knowledge of Outlook and Microsoft Office;
– Experience in conducting of presentations and/or training;
– Demonstrated commitment to collaborative work practices.
Benefits and Remuneration:
An attractive salary will be offered related to the experience and qualification of the applicant.
Successful candidate is expected to be start his/her duties on January 1 2020.
There will be a six-month probation period. The successful applicant will initially be contracted until the end of 2024.
Contract renewal after 2024 will be subject to continuation of the project and to be agreed by Government of Japan and Member States of ASEAN and the taking into account satisfactory performance of the Officer and agreement among the Japanese
Government Japan, Appointee and ASEAN Secretariat.
More information about the position and the application procedure is available HERE
If you are interested from internships, please check HERE