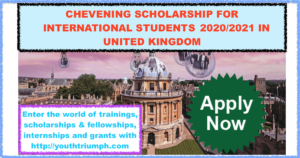 Deadline: November 5, 2019 (12:00 GMT)
Venue: United Kingdom
Eligible: applicants from each of the 167 countries bellow:
–           Afghanistan
–           Albania
–           Algeria
–           Angola
–           Anguilla
–           Antigua and Barbuda
–           Argentina
–           Armenia
–           Australia
–           Azerbaijan
–           Bahamas
–           Bangladesh
–           Barbados
–           Belarus
–           Belize
–           Benin
–           Bermuda
–           Bhutan
–           Bolivia
–           Bosnia and Herzegovina
–           Botswana
–           Brazil
–           British Virgin Islands
–           Brunei
–           Burkina Faso
–           Burundi
–           Cambodia
–           Cameroon
–           Canada
–           Cape Verde
–           Cayman Islands
–           Central African Republic
–           Chad
–           Chile
–           China
–           Colombia
–           Comoros
–           Cook Islands
–           Costa Rica
–           Cote d'lvoire
–           Cuba
–           Democratic Republic of the Congo
–           Djibouti
–           Dominica
–           Dominican Republic
–           Ecuador
–           Egypt
–           El Salvador
–           Equatorial Guinea
–           Eritrea
–           Eswatini
–           Ethiopia
–           Falkland Islands
–           Fiji
–           Gabon
–           Gambia
–           Georgia
–           Ghana
–           Greece
–           Grenada
–           Guatemala
–           Guinea
–           Guinea Bissau
–           Guyana
–           Haiti
–           Honduras
–           Hong Kong
–           Iceland
–           India
–           Indonesia
–           Iran
–           Iraq
–           Israel
–           Jamaica
–           Japan
–           Jordan
–           Kazakhstan
–           Kenya
–           Kiribati
–           Kosovo
–           Kyrgyzstan
–           Laos
–           Lebanon
–           Lesotho
–           Liberia
–           Libya
–           Madagascar
–           Malawi
–           Malaysia
–           Maldives
–           Mali
–           Marshall Islands
–           Mauritania
–           Mauritius
–           Mexico
–           Micronesia
–           Moldova
–           Mongolia
–           Montenegro
–           Montserrat
–           Morocco
–           Mozambique
–           Myanmar
–           Namibia
–           Nauru
–           Nepal
–           New Zealand
–           Nicaragua
–           Niger
–           Nigeria
–           North Korea
–           North Macedonia
–           Occupied Palestinian Territories
–           Oman
–           Pakistan
–           Palau
–           Panama
–           Papua New Guinea
–           Paraguay
–           Peru
–           Philippines
–           Russia
–           Rwanda
–           Saint Helena; Ascension; and Tristan da Cunha
–           Saint Kitts and Nevis
–           Saint Lucia
–           Saint Vincent and the Grenadines
–           Samoa
–           Sao Tome and Principe
–           Senegal
–           Serbia
–           Seychelles
–           Sierra Leone
–           Singapore
–           Solomon Islands
–           Somalia
–           South Africa
–           South Caucasus
–           South Korea
–           South Sudan
–           Sri Lanka
–           Sudan
–           Suriname
–           Syria
–           Taiwan
–           Tajikistan
–           Tanzania
–           Thailand
–           Timor-Leste
–           Togo
–           Tonga
–           Trinidad and Tobago
–           Tunisia
–           Turkey
–           Turkmenistan
–           Turks and Caicos islands
–           Tuvalu
–           Uganda
–           Ukraine
–           Uruguay
–           Uzbekistan
–           Vanuatu
–           Venezuela
–           Vietnam
–           Yemen
–           Zambia
–           Zimbabwe
Description
Applications are now open for 2020-2021 Chevening Scholarship and some Chevening Fellowships.
Chevening Scholarships are the United Kingdom (UK) Government's global scholarship program, funded by the Foreign and Commonwealth Office (FCO) and partner organisations.
Chevening offers a unique opportunity for future influencers, leaders, and decision-makers from all over the world to develop professionally and academically, network extensively, experience United Kingdom culture, and build lasting positive relationships with the UK.
The programme offers awards to outstanding scholars with leadership potential from around the globe to study for a master's degree in any subject at any UK university.
The significance of the Chevening scholarship scheme rests on its large scope – approximately 700 scholarships are awarded each year to students from more than 110 countries, allowing students from developing countries to access British tertiary education institutions, some of which are of a very high standard as determined by international rankings.
The most popular destinations for the Chevening Scholars to study in 2011 were the Universities of Oxford, Cambridge, University of Bath, the London School of Economics & Political Science, University College London, and Edinburgh, University of Nottingham and King's College London.
Eligibility
To be eligible for a Chevening Scholarship you must:
– Be a citizen of a Chevening-eligible country or territory.
– Have at least two years of work experience.
– Return to your country of citizenship for a min. of two years after your award has ended.
– Have completed all components of an undergraduate degree that will enable you to gain entry onto a postgraduate programme at a UK university by the time you submit your application. This is typically equivalent to an upper second-class 2:1 honours degree in the UK.
– Meet the Chevening English language requirement by 16 July 2020.
– Apply to three different eligible UK university courses and have received an unconditional offer from one of these choices by 16 July 2020.
Language Test:
In order to receive a Chevening Scholarship, all applicants must demonstrate that they have fulfilled Chevening's English language requirement till 16 July 2020.
We advise all applicants to ensure they have fulfilled the English language requirement as early as possible by either: Claiming an exemption based on the UKVI exempt categories/ Taking an English language test.
If you fail to demonstrate that you have met the required level in English language by Jul.16, 2020 or fail to prove that you qualify for an exemption, your application will not be successful.
Chevening accepts English language tests from 5 providers:
– TOEFL iBT;
– Academic IELTS;
– C1 Advanced (formerly Cambridge English: Advanced [CAE]);
– Pearson PTE Academic;
– Trinity ISE II (B2).
The English language test must have been taken from one of these providers on or after 1 October 2018. If you do not already have an existing eligible test certificate, it is your responsibility to ensure that you have booked a test date so that you can obtain the required results.
Applicants are not permitted to take pre-sessional courses to fulfil Chevening's English language requirement. You will be required to take one of the approved English language tests unless you fall into one of the exempt categories.
Applicants are not permitted to enroll on pre-sessional courses to fulfil their university's English language requirement or any other conditions of a university offer. Any offer from a university with a requirement to undertake a pre-sessional course will be considered conditional.
For further details regarding the language test, visit HERE.
Work Experience:
You should ensure that you meet the minimum work-experience requirement for the scholarship before submitting your Chevening application.
Chevening Scholarships require that applicants have at least 2 years of work experience.
Eligible types of work experience:
– Voluntary work;
– Full-time employment;
– Paid or unpaid internships;
– Part-time employment;
For more details regarding the work experience, please visit HERE.
You are not eligible for the Scholarship if you:
– Have a refugee status in a non-Chevening eligible country. Applicants who are citizens of a Chevening-eligible country and who hold refugee status in a Chevening-eligible country are eligible for a scholarship.
– Hold British or dual British citizenship (unless you are a citizen of a British Overseas Territory or hold BN(O) and are applying from Hong Kong).
– Are a former employee, an employee, or relative of an employee (since July 2017) of Her Majesty's Government (including British embassies/high commissions; the Department for International Development; the Department for International Trade; the Ministry of Defence; the Department for Business, Energy & Industrial Strategy; and the Home Office), or a staff member of the Association of Commonwealth Universities.
– Have previously studied in the United Kingdom with funding from a UK Government-funded scholarship.
– Former employees, employees, or relatives of an employee (since July 2017) of Chevening Partner organisations are eligible to apply, but cannot receive a Chevening Partner Award from the organisation from which they work, previously worked, or are in affiliation with through relatives.
Important note– once your application has been submitted, it is not possible to change it.
Benefits
A Chevening Scholarship normally covers
– A monthly stipend
– University tuition fees
– Travel costs to and from the UK
– A homeward departure allowance
– An arrival allowance
– A travel grant to attend Chevening events in the UK
– The cost of one visa application
Apply
Applications for Chevening Awards can only be submitted using the Chevening online application system through the 'Apply Now' button on your country's page.
Applications for Chevening Scholarships to study in the United Kingdom are open from 5 August to 5 November 2019.
You should visit your individual country page at the official website for detailed information on how to apply for this scholarship.
Apply HERE
More information is available HERE