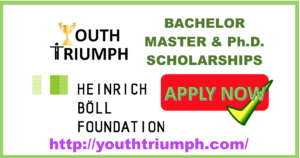 Deadline: September 1, 2019
Eligibility: German/EU nationals and non-EU nationals who did not study in Germany
Scholarship: BA/MA: €597-€750 per month plus other allowances; PhD: €1000-€1050
Description
The Heinrich Böll Foundation gives stipends to approximately 1,000 undergraduates, graduates, and doctoral students of different subjects and nationalities per year, who are pursuing their degree at universities, universities of applied sciences ('Fachhochschulen'), or universities of the arts ('Kunsthochschulen') in Germany.
Applicants should have:
– excellent academic records;
– to have strong interest in the basic domains of the foundation- democracy and human rights, ecology and sustainability, self determination and justice;
– to be socially and politically active.
Eligibility
Current scholaship is only for German applicants.
For an undergraduate and graduate scholarship:
1/  Student scholarships for German and German-educated applicants: Students in all subjects who are pursuing a FIRST DEGREE (Bachelor, Staatsexamen, Diplom) and who earned their university entrance qualification in Germany;
2/ International students on a MASTERS course in any subject who earned their university entrance qualification outside Germany (Bildungsausländer/innen)and are studying, or wish to study, in Germany.
3/ Student scholarship – journalism: "Medienvielfalt, anders: Junge Migrantinnen und Migranten in den Journalismus"(for Germans and candidates who study in Germany – Bildungsinländer/innen): This programme is aimed at German or German-educated students with a migration background who wish to become journalists;
For a Ph.D. scholarship:
1/ International doctoral students in all subjects who obtained their university entrance qualification outside Germany and are pursuing, or wish to pursue, Ph.D. studies in Germany (Bildungsausländer/innen).
2/ Doctoral students from inside and outside Germanyfor a doctoral scholarship in the focus programme "Transformation Research";
Good or very good knowledge of German is required; please provide documentary evidence. The selection procedure will be in German language. If an applicant receives a scholarship, intensive German courses  that he/she takes may be funded.
Scholarship
The scholarship amount varies and may include health insurance and family and/or childcare allowance.
For undergraduate and graduate students who are German/EU nationals or those educated in Germany, the amount varies- max. €597 and €300 book allowance per month.
At the Ph.D. level:
* German/EU nationals or those educated in Germany receive €1,050 per month basic scholarship and €100 per month research costs allowance.
Application
Application deadline is 1 September.
Only online applications are accepted.
The 1 September deadline is for undergraduate, graduate and doctoral students from inside Germany only.
Register for the online application portal HERE.
More information HERE.