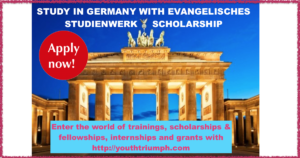 Deadline: 1 September, 2019
Venue: Universities in Germany
Description
The scholarship of Evangelisches Studienwerk provides a monthly grant and wide range of academic offers:
– Summer university– different of seminars are organized at the Villigst Campus during the summer season. Students, experts, academics, and graduates with different professional and academic backgrounds come together to discuss issues in an interdisciplinary way.
– Monthly grant up to 649 Euros and 300 Euros for study issues
– Work practice– The scholarship supports compulsory internships up to 1 semester.
– Work/study abroad– Enriching professional competence for global experience. For this reason the Scholarship giver opportunity to its students to spend time abroad and usually covers fees and expenses for travelling.
– Contact and advice– Students will have individual support and advice not only by their Director of Studies in but also via a regional counsellor at their university location.
– Democracy– Villigst is a democratic organization and stimulate all students to contribute to the life of the institution. Students are represented at different levels of the management of Studienwerk.
They receive applications from school graduates and students and support students without trial periods for the whole duration of their studies.
In this way are giving them time to get to know Evangelisches Studienwerk with its wide variety of offers, and allow them to get involved.
Evangelisches Studienwerk grants scholarships for studying all over Germany in universities of applied sciences and universities.
They support students from different subjects and disciplines.
The important criteria are their good performance, strong interest in interdisciplinary topics and enthusiasm for their own subject.
Students will receive individual and intensive support, a interdisciplinary range of seminars and responsible codetermination of scholarships at all levels.
As stated above the scholarship includes up to 597 euros per month plus an grant for study issues.
Unfortunately, cannot be supported any students in part-time, correspondence or dual courses of studies.
Eligibility
Evangelisches Studienwerk is searching young people who are interested in their subject, take on responsibility in society, achieve good performances and broad their horizon.
The following requirements must be fulfilled in order application to be eligible:
– Protestant church membership;
– Proven social commitment (for instance environment, church, social, politics);
– Citizenship of a member state or accession country of the European Union or other citizenship in accordance with Section 8 of the German Federal Training Assistance Act (BAföG);
– At the time of application the students must not have advanced beyond the 3rd subject-related semester;
– Valid qualification for university studies;
– For applicants who are not German citizenship: TestDaf (test for foreign learners of the German language), good German language skills (DSH certificate are must.
Exception:
Refugees willing to study or want to continue their studies in Germany are eligible to apply past the third semester.
At time of application there have to be at least four subject-related semesters left to study.
Applicants who are older than 35 must also attach a special application.
For students studying for a double degree the number of semesters in the course of studies first commenced is decisive.
Receipt of the processing charge of 12 euros until finalization of the application.
Application should be submitted via online application portal.
The application deadline for acceptance for the summer semester is 1 September (midnight). The preselection processes will be in October/November and the main selection process in February/March.
More information is available HERE